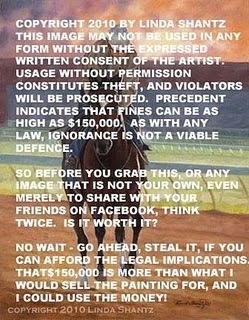 (thanks to Linda Shantz for this image. www.lindashantz.com )
Just over a year ago, without my knowledge or permission, one of my images was entered into an online amateur photography competition. Low and behold, it came in second place. The entrant received a minimal gift certificate and the image was posted in an online gallery with the entrants name on it as the photographer. A friend of mine saw the competition image gallery and congratulated me on the win. I immediately set about to find out what had happened and what I could do about it. The first thing was that I had to go to the organizers of the competition and prove to them that the image was my own. It took them several weeks to acknowledge that the image was mine and still more weeks before it was taken down off the website. But, because the entrant is a citizen outside my own country, there was very little I could do to insure that he did not do something like that again. The cost of hiring a lawyer to do the research on the International laws was completely prohibitive.
But that is not the point of this blog post. The point is that during the time that I trying to get a resolution and since, it seems that everyone has been very unsure of what the actual laws concerning Intellectual Property rights are in relation to the internet. You hear people saying over and over again, "If it is on the internet, it is free for anyone to use". That is not the case. In fact the last blog post that I wrote about my own experience sparked the following response from one of my readers -
"As a criminal court lawyer (and amateur photographer) I have to say that you really must be kidding, right? Do you really have nothing better to do than to rant about a photo, and a 25$ GC? I understand about copyright infringement, I understand about hurt pride, and 'standing up for rights', but usually these things entail something way more in depth and weighty. I also know from vast years of experience that people do make mistakes and that your argument in court would be laughed off the docket."
So let's clear up some misconceptions - Intellectual property and copyright infringement are serious matters. And we cannot tolerate those that do not comply. There are whole law firms that are now dedicating their practices to the protection of such rights and the resolution of claims made against infringers. The US congress is, as I write this, engaged in studying the policing of such rights for US citizens whose rights are violated by individuals outside the US. The internet explosion has made the question of how to enforce copyright law on a global scale an imperative issue.
As artists, we must all know what our rights are. The following links provide some answers
http://www.templetons.com/brad/copymyths.html
http://www.nolo.com/legal-encyclopedia/article-30100.html
http://www.photoattorney.com/?p=199
I continually see work that is used without authorization of Facebook, eBay and elsewhere. It does not matter if the infringer is getting financial compensation for use of the image or not. It is illegal to use the creative work of others without permission of the creator. Remember how our teachers reminded us over and over again not to plagiarize? This unauthorized use of a work of visual art falls into the same legal group. Until we have clear organizations and agencies dedicated to the protection of Intellectual property rights on the World Wide scale, it falls to us, as artist to know our rights and to speak up in the protection of the rights of our fellow artists. As the phrase goes, See something? Say Something!
Juliet Harrison
Juliet
Juliet R. Harrison Photography
Topics:
Intellectual Property law and the Internet